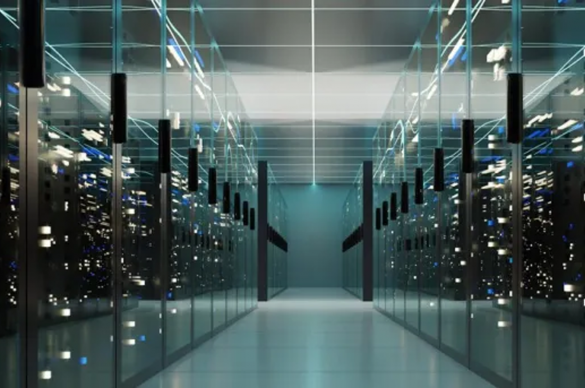 The Web Werks – Iron Mountain Data Centers (IMDC) Joint Venture has announced the inauguration of its first greenfield data centre in Navi Mumbai, MUM-2.  Iron Mountain entered into a joint venture agreement with Web Werks in 2021.
William L. Meaney, president and chief executive officer (CEO) of Iron Mountain, presided over the inauguration ceremony that was held in Rabale, Navi Mumbai, in the presence of Web Werks and Iron Mountain global leadership teams, partners, and dignitaries from government authorities.
Situated in a 120,000 square feet campus, the data centre was built within 18 months of being announced, despite challenges caused by global supply disruptions and Covid-19. The MUM-2 is a Tier 3-designated data centre that can support 10MVA of gross power.  It is adjacent to the Web Werks Mumbai-1 DC in Navi Mumbai allowing customers to take advantage of the existing rich interconnection ecosystem. The data centre enables access to Tier-1 carriers, 200+ internet service providers (ISPs), three of India's largest peering exchanges, along with cloud on-ramp with major hyperscale cloud providers.
Commenting on the development, Nikhil Rathi, CEO, Web Werks, said, "We are pleased to announce the second data centre facility in Navi Mumbai. Our existing data center in Mumbai is almost fully leased, and we see increased demand for our services from various customer segments. This demand will further be bolstered by the growing digitisation, the rollout of the 5G network in India, and rising cloud adoption. With this new data centre and our team of industry veterans, we will be able to support demand and offer a connectivity-rich ecosystem."
Meanwhile, William L. Meaney said, "The opening of Iron Mountain and Web Werks' first greenfield data centre marks an important step in advancing our Joint Venture's position as one of India's leading data centre providers. The investment in this new facility reflects our commitment to investing in new highly connected, secure and compliant data centres in the APAC region that will serve our hyperscale, network, content and enterprise customers."
The Web Werks – Iron Mountain Data Centers JV previously announced they have signed memorandums of understanding (MoUs) with the Karnataka and Tamil Nadu government to set up data centres in Bangalore and Hyderabad. The construction of the standalone data centres is nearing completion and the first data halls will be made available in the first half of 2023.  In 2022, Web Werks as part of the joint venture participated in the third ground-breaking ceremony at the Global Investors Summit in Uttar Pradesh, and announced plans to invest in a new hyperscale data centre in Noida. The Web Werks – Iron Mountain Data Centers JV will continue to expand in existing markets of Mumbai, Pune and Noida, and also invest in new markets such as Chennai.