Keep Your Data Close to You with-in Reliable and Efficient 3rd party Data Center
Fastest access to your data is the key to keep your business running perfectly. Web Werks is the leading colocation data center provider in India, offering a full gamut of services that provide fast and secure access to data of any complexity. Our global data center footprint and our cloud server hosting services means that your data is always nearby by virtue of our geographically diversed data centers. Our high density data center and cloud facilities are supported by professional technicians for seamless, consistent support. As one of the leading data center providers in the world, we promote innovation combined with exceptional security to deliver services that truly make a difference in the way you do business.
What Are the Leading Data Center Solutions Near Me?
 Data integrity is of utmost importance in this digital age, and with a managed dedicated server in combination with cloud security solutions, you can enjoy peace of mind. As a data center is committed to deliver value, our dedicated facilities and optional services, such as our Bare Metal cloud options, support even the most comprehensive workloads. Our practical and scalable solutions are designed to meet the demands of your growing business.
Web Works is a team of future thinking data management professionals, with colocation data center solutions that maximize your efficiency at every turn. When asking the question "who offers the most versatile data solutions around me?" simply choose Web Works. For more information on our data center as well as our private and public cloud storage add ons, contact us at +91 8828 335 555.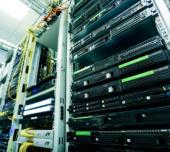 Sep 27, 2021
Colocate Or Build Your Own DC? The TCO Sums It All
As a financially concentrated resource, a Data Center forms the backbone of every Enterprise IT. However, while deciding on Data Center investments, organizations face two pertinent questions – Should we build and manage our own Data Center or should we opt for a Colocation Data Center? In this definitive eBook, we have elaborated on the Total Cost of Ownership (TCO) that will help you decide on the apt Data Center route for your organization.