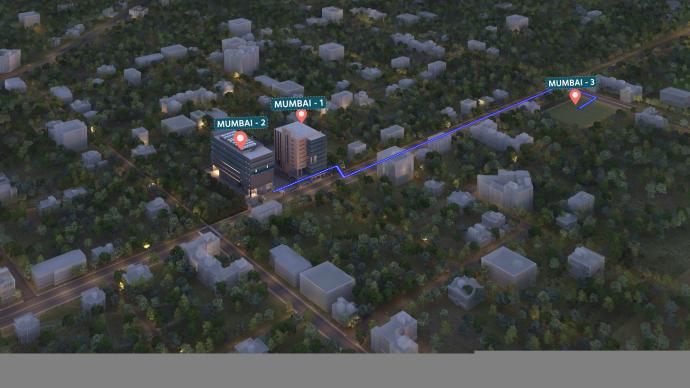 The joint venture between Indian data center provider Web Werks and NYSE-listed Iron Mountain Data Centers will be investing around Rs 1,400 crore to develop a large data center in Navi Mumbai's Rabale locality.
This will be Web Werks' seventh data center in India and third facility in Mumbai region alone. The company has so far developed data centers in Pune, Hyderabad, Bangalore, Noida apart from existing two facilities in Mumbai in the last two years.
The proposed facility Mumbai-3 will be a Tier III-designed data center, that can support 32 megawatts of IT load and has a projected go live date of second half of 2025. The company has already acquired a land parcel spread over 5 acres for the proposed development.
"We are excited to be growing our data center campus in Mumbai at pace and scale by securing land to build our third facility in one of India's most important data hubs. This investment reflects our commitment to build highly connected, secure and compliant data centers in India to serve our hyperscale, network, content and enterprise customers," said Mark Kidd, EVP & Global General Manager, Iron Mountain Data Centers.
The data center campus has also received approvals for an additional power substation with 120 MVA of capacity that can be utilised to further expand the total capacity at a later stage
 "We have strategic priorities looking ahead to the rest of the year. We are launching new data centers in key Indian cities and have signed multiple pacts with the Karnataka and Telangana government to set up data centers in Bangalore and Hyderabad, positioning us as market leaders in colocation solutions for hyper scalers and enterprise customers," said Nikhil Rathi, Founder & CEO, Web Werks.
According to him, the company is also raising the standards of solutions with advanced hosting infrastructure, cloud-on ramp, network, and security. Web Werks is also expanding with new data center facilities in Chennai and Kolkata. The new Mumbai data center will be located close to the highly interconnected carrier hotel MUM-1 and the recently opened MUM-2 facility, which is a standalone purpose-built greenfield data center with 6 megawatts of IT load.
Combined, the extended data center campus will allow customers to take advantage of additional, in demand megawatt capacity. The development of the facility will build on an already interconnected ecosystem comprisingTier-1 carriers, over 200 internet service providers and three of India's largest peering exchanges, along with cloud on-ramps with major hyperscale cloud providers.
In 2021, Web Werks entered into a strategic relationship with US-based enterprise information management services firm Iron Mountain that agreed to invest $150 million as equity in the company. The transaction allows WebWerks to accelerate its expansion plan.
Data centers in India are emerging as one of the most promising growth opportunities for global investors and leading developers. Investments are flowing into the data centre segment, with multiple new markets created simultaneously, along with the rapid development of campus sizes in key cities including Mumbai and Chennai.