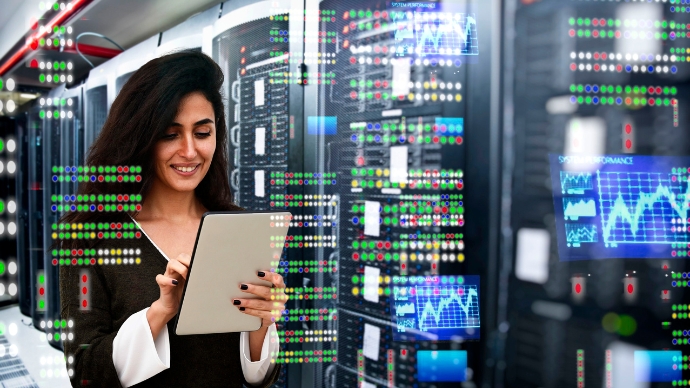 The interconnected world of today makes it difficult to preserve data and digital assets. Cyber dangers are growing as a result of new web services, applications, and AI developments. The degree of inspection is also increasing.
A robust compliance programme that is regularly evaluated, tested, and updated based on the most recent best practices can help restore control even as the urgent need for security develops. A powerful compliance programme works like a machine, making sure that all mechanisms are in place and active round-the-clock to identify, address, and mitigate risks.
What function does your provider of colocation perform?
To establish and maintain compliance with physical and environmental regulations, many organisations opt for colocation. Nearly all businesses must adhere to regulatory compliance rules for data management, but doing so is no easy undertaking.
A colocation provider reduces risk through operational and security-related physical and environmental controls, assuring the highest levels of security, availability, and integrity. A thorough compliance programme includes maintaining and continuously improving a physical security programme as well as ensuring correct maintenance and operation of vital assets.
Even though they are costly and time-consuming, ongoing audits are essential to compliance. Reporting requirements vary frequently, making it necessary for organisations to adapt or risk falling behind. By collaborating with the ideal colocation provider, the customer may eliminate a lot of this work.
Best Practises: What are they?
Your colocation supplier should, at the very least, have an ISO27001 implementation and a SOC 2 Type II report in place. Customers and other parties can be assured by these two frameworks that an appropriate information security management system is in place and that technical audits are conducted on a regular basis.
The controls that the colocation provider is subject to are fully detailed in the customer-facing reports provided by these frameworks. It also describes their performance. You can also need frameworks other than SOC and ISO, depending on your sector.
How is a data center certified?
Teamwork is required for certification. Imagine a Formula One racing vehicle. Everything is constructed to exacting specifications with the expectation that it will perform within very narrow tolerances even in the most dynamic and unpredictable circumstances. A proper compliance programme operates in this manner.
The majority of the artefacts examined during an audit relate to operations, network, security, and human resources as a department.
Time plays a role as well, in addition. Compliance teams must collaborate to manage risks, spot gaps, and implement process engineering even when there is no "audit season" to do so. Analysing and examining data is a significant aspect of this process. Most measures for continuous improvement that are implemented to ensure the success of an information security management system are driven by data.
Cost is frequently a factor while choosing what frameworks to pursue. Your sector is frequently the deciding factor when it comes to security, and anything beyond that should make sense for your company.
What to Ask a Provider of Data Centres
It's crucial to comprehend the compliance programme of your colocation provider. Finding the ideal colocation provider for your company is essential even if colocation has obvious advantages.
What certificates and/or reports are present at the potential site is the most crucial compliance concern in the colocation industry, whether it's for retail, hyperscale, or wholesale. To guarantee that the appropriate physical and environmental controls are in place, certifications and reports should be in line with your compliance requirements and business demands.
It's a good idea to communicate your needs to the colocation provider if your organization's mandates and/or social responsibility are focused on other compliance requirements, such as safety, quality, or environmental and energy management.
It's more crucial than ever to align yourself with a provider who speaks your language as the data center industry transforms. Beyond the certifications and reports, it's critical to elicit more specific information regarding service delivery, physical security rules, personnel security policies, availability and change practises.
Examining these in advance of contract execution will allow you to conduct due diligence and ensure that the colocation provider is performing at the standards set by your business, beyond what certifications and reports may reveal.
Second, it's important to know whether compliance is a culture as well as a function at the colocation provider. Talking the talk is one thing; actually walking the walk is another. There are several ways in which this can be demonstrated, but a fantastic beginning step is to have a reliable compliance point of contact with the colocation provider. The key is developing that relationship early on and being aware that POC is available to help you when you need it.
Compliance, security, availability, and integrity are of utmost importance because you are outsourcing your stake in your operations to the colocation provider.